Ahead of the new Southern League campaign, Plymouth Parkway's season tickets are now available to purchase ahead of kick-off.
This year, the season ticket pricing will be as follows:
Adults: £100
Concessions: £75
*Concessions include seniors over 65, students with a valid NUS card and Armed Forces with an ID Card
Under 16's £65
You can now purchase your season ticket online. Your personal season ticket will be printed with your details and will be ready to pick up when you arrive at Bolitho Park ahead of the new season.
We understand that supporters who purchased a season ticket last season will ask what is happening with them due to the season not being completed. Only 8 games were completed of the 20 scheduled to be played at home.
As you all know, major ground works have been taking place at Bolitho Park since the league was suspended in preparation of Truro City ground sharing for next season and our own movement into the Southern League.
As a club, we are asking for a good will gesture to waive the remainder of last season's ticket price and purchase a new season ticket ahead of the 2021-22 season.
However, if you are not satisfied with the above option, then we can adjust this season's ticket price to incorporate last season's remaining games. For more information on this and to speak to us further, please email mike@ppfc.co.uk
We thank each supporter for your continued support, and we look forward to welcoming you all back to Bolitho and our first season in the Southern League.
PPFC
To order your online season ticket, please click the image below: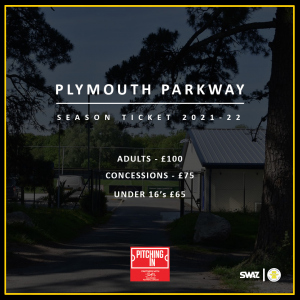 To keep up to date with all things Parkway please follow us across our Social Media Channels