Charlie Baggott – A True Parkway Legend
It is with sad news that we must tell all the Parkway family that late last night a true legend of Plymouth Parkway passed away.
Charlie has been a massive part of the history of the football club, from building stands, cutting grass to helping on match days to make the club the success it is today.
Charlie leaves a massive hole in the football club and will be missed by everyone, a true gentleman has passed, and will never be forgotten at the football club.
The Baggott family have lost a great man who has always been a massive part of their lives as well as the football club.
We can all remember the days when Charlie would come to the ground to check the trees, he grew from just a pinecone, checking all the work that was being done in the later years to make sure it was done to the exceptional standards he would have done himself.
The club will never be quite the same without Charlie being at the ground, but we will always remember his smile, and his love for Plymouth Parkway.
RIP Charlie and we hope we can continue to serve the club you loved so much
Condolences to all his family and friends.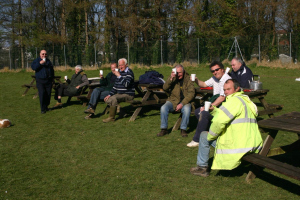 Further details of the funeral arrangements will follow later.
On Saturday we would like to have a minute's silence before the game against Truro so we can all think and remember the good times we have all spent with Charlie Baggott
Always in our thoughts
Plymouth Parkway Football Club Board