The Parkway Preview Issue No.7
The rain wins and a fond farewell to one of the original cast
By Mike Parrish
Thank you, Alan Horswell. This should be the main message of this weeks Parkway Preview. I personally never got the chance to properly say hello to Alan but if I did, I would have thanked him for being part of the team that helped lay the foundations of Bolitho Park and Plymouth Parkway. Alan, along with many others have helped make Plymouth Parkway a Western League team fighting for this seasons title and push Parkway up the ladder of premium sporting teams in Plymouth. The funeral for Alan will take place tomorrow (Friday 15th November) and I'm sure it will be well attended, and many stories will be talked of Alans life. #ThankYouAlan
So, how is Parkways title challenge going? Last weekends fixture against Chipping Sodbury Town ended with a 5-2 victory and helped close the gap on leaders Bradford Town to three points with Town playing a game more. In difficult conditions, Lee Hobbs' men overcame their bogey team from last season, even if the team were not at their best for large parts of the game. The captain Shane Krac would drag Parkway through the game and find himself on the scoresheet twice, treating the fans to his legendary knee slide celebration. Jack Calver would again show his potency from distance with two fine left footed strikes and Mikey Williams would complete the scoring with a trademark run and effective finish.
It was a performance that could have been better as Lee Hobbs agreed when he spoke to BBC Radio Devon after the game. "It was one of those games. These are difficult games and on a heavy pitch it was tough at times. We did enough and I'm delighted that we came away with three points and put us closer to Bradford Town. They are a brilliant club and won't be going anywhere, we just have to concentrate on picking up three points and trying to keep clean sheets." Another potential upset would be overcome as the club turned their attentions to Wednesdays rearranged fixture against Exmouth Town in the League Cup.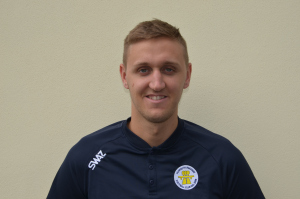 Shock horror – the game would fall foul of the weather leaving it to be arranged for a second time as the fixture list begins to pile up. Midweek games are starting to gather momentum for 2020 and it will be a case of game management and planning for Lee Hobbs and Karl Curtis. Another blow for the squad would occur during the game against Chipping Sodbury. Fletcher Williams, who is already side-lined through injury would be joined by Aaron Bentley. The influential full back would suffer ligament damage after colliding with a post which will leave the No.2 on the treatment table for a few weeks.
Bentley will definitely miss this weekend's big game against Bitton who will be heading to Bolitho looking for revenge. Parkway have already travelled to Bitton and came away with a superb 5-1 victory, but the Ton looked to have turned a corner. Either side of a narrow 2-1 defeat by leaders Bradford, Bitton have beaten both Bridgwater Town and Street and sit 11th in the table. Dan Langdon's men will certainly be looking to settle the score on Saturday and push themselves back into the title race.
But I have a feeling Parkway will be up for this one. Their best football seems to shine when they are up against the bigger boys of the division and Saturday maybe a game not to be missed for Plymouth footballing fans, especially with Argyle playing away.  It could be a big crowd at Bolitho on Saturday – *Weather permitting (oh how I hate that phrase)
After Bitton, Parkway travel to Wellington for a midweek game and as it stands – have a free weekend next Saturday. Will that be filled? Keep checking Parkway's social media to find out. After that, it's the FA Vase and Hamworthy on the horizon – But that's then and this is now. First up for Parkway is Bitton in the all-important league campaign. Will the yellows get the all-important three points? Find out on Saturday – Kick Off 3pm at Bolitho
#ppfc