Pressure off Parkway as the FA Cup rolls back into town
By Mike Parrish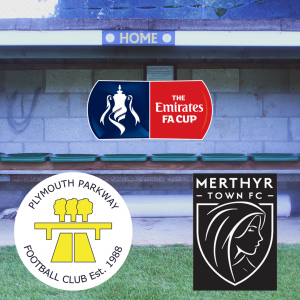 For the first time this season, Plymouth Parkway will go into their FA Cup fixture this weekend as the underdog, and the timing may be perfect. In a season when the focus is on the summit of the Toolstation Western League, this fixture will give Lee Hobbs and his players the chance to play with a little more freedom as they put league aspirations aside for the weekend. Gavin Williams brings his Southern League Premier side Merthyr Town to Plymouth on Saturday, and The Martyrs will arrive at Bolitho in good form.
Town were originally known as Merthyr Tydfil, but in 2010 the club went into liquidation and demoted three tiers of the footballing pyramid as they started life again in the Western League Division One.
From the ashes rose the same club but with a different name – Merthyr Town. The Martyrs would be a club fully owned by the supporters trust and in the space of five short years, the Welsh outfit have not only gained promotion but have secured three league titles along the way and are now back where they belong playing Southern League Premier Football. Merthyr Towns story may be more important to talk about in todays footballing climate after recent events involving Bury. It would again prove that any club could share the same fate, regardless of the level of football being played.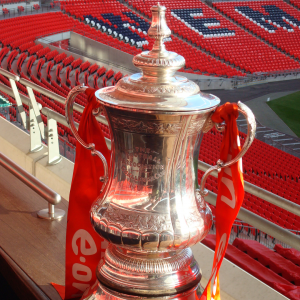 Merthyr's FA Cup campaign started well last season with a convincing win over Southern League outfit Melksham Town but that's as far as they got. A 4-1 defeat in the second qualifying round by Southern League Division One side Winchester City ended The Martyrs FA Cup dreams for another year. This season, Williams' side sit eighth in the table after six games played, having picked up three victories along the way. Two of those three victories would be achieved from their past two games. Firstly, Ian Traylors two goals was enough to seal the points against Swindon Supermarine in front of 509 fans at Penydarren Park. Five days later, Cameron Clarke would hit a 90th minute winner in a 2-1 away victory against 15th placed Metropolitan Police. Saturday will be the clubs first involvement in this seasons FA Cup
These two sides have recent FA Cup history which took place in 2015. On that day, two goals either side of half time would see The Martyrs run out 2-0 winners at Bolitho on that occasion. Parkway themselves reached the 2nd qualifying round last year as they also crashed out to a National League side as Gloucester City proved too much in a 3-1 defeat. It was however enough for The Yellows to create club history, a feet they can repeat this season if they manage to cause a cup upset on Saturday afternoon. They've already enjoyed themselves in the Cup this season with two very different performances. Jack Calver's solo goal was enough to gain passage in a physical encounter against Buckland Athletic on a rain swept Friday night at Bolitho but it would be their next performances that would raise eyebrows amongst many local football fans. A faultless second half performance against Paulton Rovers would see Parkway run out 5-2 winners against higher league opposition with the scoreline flattering the Southern League Division One Outfit. This time out, the club will be able to test themselves against a side two divisions above them, a side from The Southern Premier South, a league Parkway have their eyes on.
After a superb start to this campaign, the Bolitho outfit travelled to Bridgwater last weekend and taste defeat for the first time, it would hand out a timely reminder that nothing should be taken for granted this season. A week is a long time in football and on Saturday, Hobbs, along with coach Karl Curtis will be able to put that defeat behind them and send their players out to not only try and cause an upset, but to have fun doing so.
The magic of the FA Cup this time out will give Parkway a bit of breathing space from league matters and along with it, give the current crop of players a chance to test themselves against players who are performing two divisions higher, a place Parkway, one day hope to be.