Plymouth Parkway and the Captaincy
By Mike Parrish
Parkway, as a team are filled with experienced players including the likes of Rob Farkins, River Allen, Matt Wright and Mike Landricombe. But none of these names holds the title of club captain. That title remains with midfield dynamo Shane Krac but, the 34-year-old has yet to kick start his season after a niggling injury. Parkways captains explains: "I picked up a niggling injury in a preseason game and along with a lack of fitness, it's been a frustrating start to the new campaign let me tell you." Shane adds: "The only good thing is seeing the boys do so well, they've been electric and I am going to have to fight for my place and at my age, it could be one of the biggest challenges of my career, but you know me, I'm ready for that fight and to lead the lads out once again."
---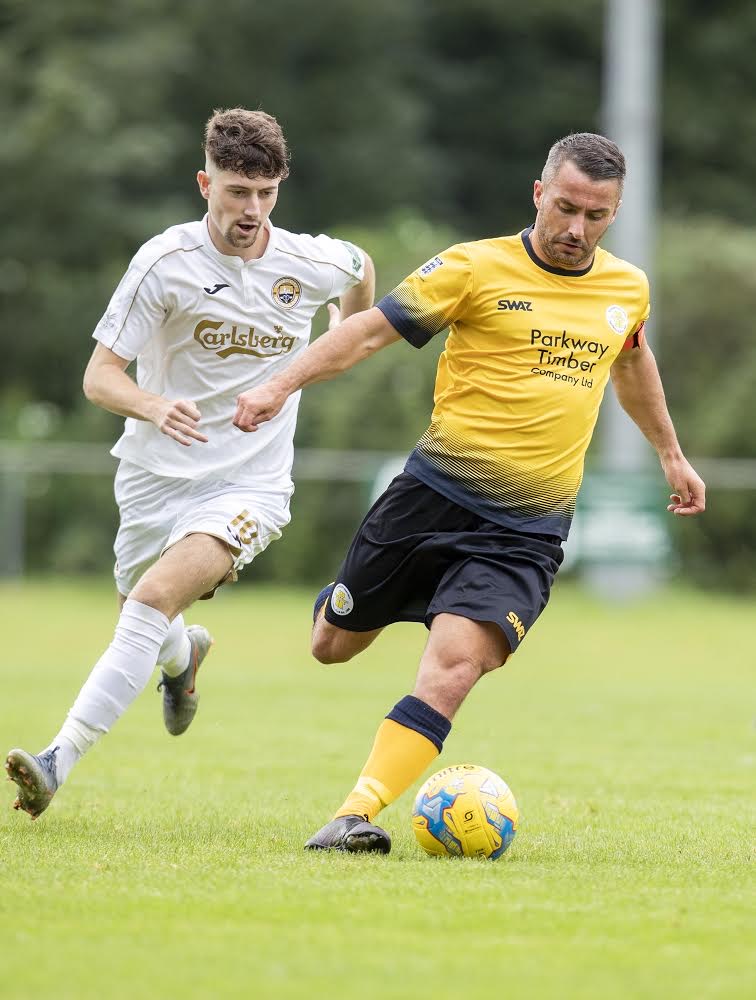 Shane had game time for Bideford with some Yellows fans thinking that was time up on his four-year spell and a sigh of relief will be felt as the Plymouth born midfielder returns to the squad ahead of Tuesday nights Devon Derby at Buckland Athletic. Reflectively, Shane adds: "I've not only missed playing football, I've missed being around the place (Bolitho Park) the club is superbly run with Mark and Gez at the helm. I had a stint with Parkway years ago and I didn't enjoy it but since I returned, there is a feel-good factor and captaining this club is now a big deal and I'm proud every time I get the chance to do so." Those sentiments are echoed by gaffer Lee Hobbs who understands how Shane views things: "He's been at this football club coming on four years now and that tells you everything you need to know. Shane has a very reactive nature and if he isn't enjoying himself or his football, he will walk away. So, for him to have been here all this time, it shows you how much he enjoys it and how much he relishes the role of captaining this side. I think this is his longest stint at a club.
---
The veteran midfielder has made over 100 appearances for the club and his 'legend' status is confirmed already, but the story of Shane Krac and Plymouth Parkway is far from over. To keep that on the pitch side of the story going will be an uphill task after a blistering start by the squad over the course of the first nine games. Hobbs is quick to point out that Shane will not be easily walking back into a team who have hit 34 goals in 9 games. Lee explains: "It's the old cliché of not changing a winning side and Shane knows that but I do know he will be doing all he can to push for a starting spot. I'll be sensible with him and play him at the right time. It's a huge bonus for me just to have him in the squad, his natural ability alone could get him by, plus he strikes the fear of god into other teams. For me and Parkway, we need Shane back to 100% fitness before he plays consecutive 90 minutes."
---
In Shane's absence, new big-name signing River Allen has filled the void impeccably after returning from suspension and has added four goals in his last three games with also being in contention for man of the match in each one. Along with the talented Billy Palfrey and tenacious Callum Hall, it's a midfield brimming with confidence as Shane agrees: "I said to Billy last season that he will be one of the best midfielders about in the next couple of years with the right application and to be fair to the lad, he's proving me right after the start he's made this season. Callum goes under the radar and he's been quality for us but for me, I want to play with River. He reminds me a lot of myself on the pitch and I know I will get more out of him when I play alongside him."
---
With River pulling the strings in midfield, the former Argyle player is in agreement: "I'm looking forward to playing with Shane, he's a top footballer and has been for years at these levels. We've played a few times at Tiverton and Bodmin, but it'll be good to have 20/30 games with each other. It's good playing with ball players and Shane is definitely a baller." River has the best years of his footballing career awaiting him, which sadly for Shane isn't the case but River knows that his career will only benefit from having a sustained period of football with Shane: "On the pitch, he has always been the same. He's been at Parkway for years on and off and credit to him, he's looked after himself enough to keep dominating these levels. You don't find many technically gifted footballers with the energy levels he brings to the side and with that added hunger of always wanting to win" adds River.
---
The captaincy has been on somewhat of a roadshow around the dressing room after vice-captain Rob Farkins picked up an injury in a victory over Brislington. Lee wanted to reward the players who may never get the chance to wear the captains armband. "When Farks got injured, yes I could have quite easily have given the armband to Wrighty (Matt Wright) but would have it meant as much to him as it did to Ryan Lane or Billy Palfrey? Matt's a born leader and doesn't need the armband for that to be implemented on the pitch and in the dressing room and he's been superb in the last two games, so I am glad I handed Billy and Lane the accolade. It's a big honour to captain any football club and I know both Billy and Laney were proud to lead the lads out.
---
Another born leader of the club is vice-captain Rob Farkins who will be given the armband once he returns from injury. "Shane is my captain and Rob is my vice-captain, it's as simple as that and it won't change, Rob is also a born leader and would arguably be captain at any other football club" adds Lee. For Rob, not to be captain isn't a problem but to not hold the captaincy shows what Shane means to this football club: "Shane is a pivotal member of this squad, he's born and bread Plymouth Parkway, his attitude and commitment to keep playing at his age is credit to him. He offers everything that we as a team require of a central midfielder. He's had an unfortunate start to this season but hopefully in a few weeks he can stay injury free and get some minutes under his belt and then hit the ground running", explains the former men's Army football captain. 'Farks' who is also in the twilight of his footballing years is arguably playing the best football of his career and the military man is proud every time he leads out the players: "Captaining the club is always a privilege and honour and with Shane's absence, it's great to fall on my shoulders. But, whether I'm captain or not, I like the rest of the boys will give everything to ensure the team wins and ultimately tries getting this club to where it belongs in and around the Southern League."
---
Little did people know the importance of a meeting between Lee Hobbs and Shane Krac at the restaurant Rock Salt four years ago in which Shane agreed to join and buy into Lee's on the pitch vision for Parkway would become to prove so pivotal. "People will say what they will about Shane but you just have to look at his performances since signing to realise that he dragged us through games, got us out of the SWPL and has upped his game even more throughout our Western League journey" adds a proud boss talking about his skipper.
---
As for the skipper himself, retirement is starting to rear its ugly head but much as sentiments echoed by Lee, River and Rob, to stay ahead of natural born leaders and keep the armband proves that 'Kracky' is the man for the job."I don't want to think about retirement, it doesn't scare me and I will embrace whatever comes after it but for me, I want to give all I have to this football club for the next two years and end on a high, that would be the perfect ending to my footballing story that started over 25 years ago" adds the veteran midfielder.
Shane goes into the squad ahead of a big Devon derby tomorrow evening and his presence in the dugout will give the players another level of encouragement and desire to continue their superb start to this seasons Western League campaign.
Shane was at his imperious best talking to Parkway media this afternoon. Thanks to Lee Hobbs, River Allen and Rob Farkins for also giving up their time.
#ppfc #RoundOurWay